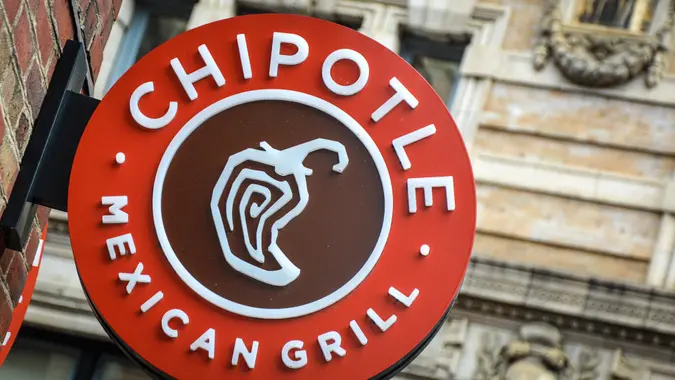 Studio Barcelona / Shutterstock.com
Let's set the scene. It's a weeknight. You've come home from an exhausting day at work, the house is all out of order, your kids are clamoring to eat, and you do not feel like cooking. Even worse, there are no frozen meals or easy-to-assemble dinners in your kitchen.
Would it be cheaper to go to the grocery store or could you save some money while satisfying your hunger at the same time with a fast-food meal?
If you have the time, the money and the mental energy to listen to expert advice when it comes to budgeting for grocery shopping, you might never find yourself in this scenario. That said, it's estimated that the average household in America spends about $438 per month on groceries, with food-at-home expenses going up 11.4% in 2022, according to the Bureau of Labor Statistics.
Like a lot of families with heads of households who work full time, the budget-friendly solution to any meal might be fast food, though you don't want to empty your wallet at the drive-thru.
GOBankingRates reached out to some dining and food experts to find out which fast-food meals are cheaper than grocery shopping. Here's what they ordered up.
Also see smarter ways to shop for groceries.
McDonald's McChicken Value Meal
"McDonald's offers a compelling choice with its McChicken Value Meal," said Devon Ferguson, senior editor at Carnivore Style. "Priced at $4.99, this meal includes a McChicken sandwich, medium fries and a soft drink."
To replicate this at home, Ferguson said, buying chicken, buns, condiments and potatoes "would likely exceed this price point."
Norah Clark, pastry chef and food editor at Boyd Hampers, points out that McDonald's value menu offers items that can cost less than ground beef and chicken breasts at the grocery store. 
"These options can be wallet friendly if you're on a tight budget," Clark said.
Ferguson added, "The availability of McDonald's restaurants nationwide makes this option accessible to a wide audience, making it a cost-effective choice for those seeking a quick and inexpensive meal."
Taco Bell's Crunchwrap Supreme Combo
"This meal comprises a Crunchwrap Supreme, a crunchy taco and a medium drink," Ferguson said. "The combination of seasoned beef, cheese, lettuce and a crispy taco shell offers a satisfying taste."
For a vegetarian option, Clark recommends the Cravings Menu at Taco Bell, which includes items like the Bean Burrito and Cheesy Roll-Up. Clark said this fast-food purchase "can be more economical than buying tortillas, beans and cheese separately."
"Trying to assemble these ingredients at home would undoubtedly cost more, considering the variety of components involved," she said. "Taco Bell's numerous locations across the country make it a convenient choice for budget-conscious consumers seeking a flavorful alternative to grocery shopping."
Wendy's 4 for $4 Deal
Wendy's 4 for $4 deal is designed for customers to choose a junior bacon cheeseburger, chicken nuggets, fries and a small drink for just $4. 
"This unbeatable value makes it considerably cheaper than buying the ingredients separately for a similar homemade meal," Ferguson said. "Wendy's widespread presence ensures that this deal is accessible to a large portion of the population, making it an attractive option for those on a tight budget."
Chipotle Burrito
"While I don't typically eat fast food, I do make an exception for Chipotle," said Jake Hill, CEO of DebtHammer. "To buy the ingredients for the same meal, plus cooking time, would come out much more expensive than the $15 you're likely going to spend at Chipotle."
Chipotle's portion sizes for burritos are typically bigger than the average Mexican fast food competitor. This means you could buy a burrito for dinner, eat half and have the second half as a lunch leftover the next day.
"Their ingredients are fresh, their meat is usually locally sourced, and the options are unlimited," Hill added. "On a busy night, you can still come out ahead by going to Chipotle instead of the grocery store."
Subway's Footlong Sub of the Day
Ferguson highlights that Subway offers a healthy and affordable choice with the Footlong Sub sandwich, with a new one offered daily. 

"With a rotating selection of subs, this deal provides variety and freshness," Ferguson said. "Replicating this variety at home with different fresh ingredients every day would certainly surpass this cost. Subway's extensive network of outlets nationwide makes it easy for consumers to access this economical option."

Clark agrees, adding, "Subway's Footlongs can be a cost-effective choice, especially if you compare it to the price of deli meats, bread and toppings for homemade sandwiches.

"It's important to note that while these fast-food meals may seem cheaper up front they might not always be the healthiest choice in the long run. A balanced diet with fresh ingredients from the grocery store is generally a better option for your overall health. But in a pinch, these fast-food options can save you some cash."

More From GOBankingRates

link