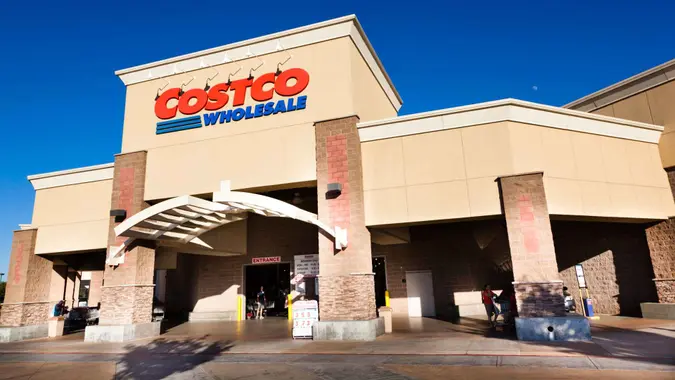 slobo / Getty Images
With the high cost of groceries these days, it pays to shop around, and Costco typically provides great values on your go-to food products. And in May, it's time to start looking at the Costco finds for upcoming events: end-of-the-year parties, summer vacations or having the kids out of school.
Costco offers a wide selection of healthy items for the family, convenient breakfast and snack items to take on the road, or frozen things that allow you to spend more time outdoors and less time in the kitchen.
GOBankingRates went on a hunt to find some of the best Costco items in the grocery aisles to buy this month, and we found plenty of options. The listed costs of these items are the online prices; you might find different prices in your local warehouse. Here are six items perfect to stock up on in May.
Bob's Red Mill Oatmeal Cups
Oatmeal is packed with protein, dietary fiber, vitamins and nutrients, but the ready-to-make packages often are filled with added sugars. Sugar isn't an issue with the Bob's Red Mill oatmeal cups at Costco. The only ingredients in this oatmeal are gluten free whole grain oats, chia seed, flax seed and sea salt – a nutritious start to any day. Add your own berries or peanut butter to make it an even tastier healthy breakfast.
Orgain Clean Grass Fed Protein Shake
Perfect for after a workout or to take on the road for lunch, the Orgain Clean Grass Fed Protein Shake is on sale at Costco through June 4, and it comes in the flavor creamy chocolate fudge. Each shake is non-GMO, soy and gluten free, and contains 20 grams of grass-fed protein per 11-ounce serving; the price per ounce is just 13 cents. Compare that to the Amazon price — $29.99 for a 12-pack. You'll pay 23 cents per ounce.
Take Our Poll: What Are You Worth to Your Company?
Kirkland Signature Variety Snack Box
Fill the pantry with healthy snacks for the kids, either for packing for lunches or for at-home treats. The Kirkland Signature Variety Pack contains an assortment sure to please all: granola bars, trail mix, blueberries, nut bars with cocoa drizzle and sea salt, dry roasted and salted almonds, roasted and salted cashews, and roasted and salted extra peanuts. Each snack bag costs 67 cents.
Hint Water
Buying a single bottle of flavored water at the supermarket can cost as much as $2 each, so the multipack is the only way to shop. And Costco is the place to turn if you're a fan of Hint water, which is vegan, sugar-free, and contains no sweeteners, gluten and preservatives. The Costco multipacks contain five bottles each of watermelon, blackberry and pineapple at $1.13 per bottle. Your supermarket probably sells Hint multipacks, too, but at a higher price for a smaller pack size.
Kirkland Signature Italian Sausage and Beef Lasagna
Who wants to hang out in the kitchen preparing dinner when the weather is nice out? You can still serve a satisfying, hot dinner without a ton of prep time with the Kirkland Signature Italian Sausage and Beef Lasagna. And at an affordable price. With this two-pack, the lasagna is just $10 per tray, and you'd spend more than that if you bought the ingredients and made it from scratch.
Kirkland Signature Cheese Pizza
Are you hosting the team party for the end of the baseball season? Have a gang coming over to watch the NBA playoffs? You can't beat the convenience – and cost – of the Kirkland Signature Cheese Pizza. Purchase a four-pack of full-sized pizzas for $13.99 at Costco. That's enough to feed the whole gang at the price you'd spend for just one pizza at your local shop.

More From GOBankingRates

link