If your ultimate Sunday involves a mammoth self-care routine, new beauty launches are your love language and you can't walk into Space NK without spritzing some sort of tester onto the back of your hand, then 1) welcome to the club! and 2) you will adore the brand-new Beauty Edit Pop-up which has now opened at Westfield London.
Taking place between 16th – 24th March at Westfield London and 23rd – 26th March 2023 at Westfield Stratford City, the one-stop holistic beauty shop gives you a chance to explore, test and try and best that Westfield's beauty, health and wellbeing retailers have to offer.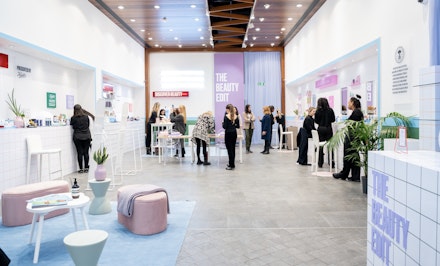 Expect consultations with experts, free beauty treatments, exclusive offers and giveaways from mega brands including Kiehl's, MAC Cosmetics, Tatcha, Too Faced and more.
Sounds like our dream day out, since you asked.
To celebrate the exciting beauty pop-up, we chatted to Westfield's ambassador and celebrity skincare expert, Nilam Holmes (who's worked her magic on plenty of famous faces including, David and Victoria Beckham to Rochelle Humes) about her top tips for great skin. Buckle in, folks – they are gold.
Hey Nilam! What's a skincare trend you're really excited about for 2023?
I'm loving the 'clean girl' aesthetic.  As much as I love make-up, its ability to transform faces is so powerful, I feel that it can almost create a mask, making everyone look the same (I call this the Kardashian effect). I love to see people's individual natural beauty shine through, so the 'clean girl look' is really refreshing as it enables you to really embrace and highlight your unique features.
In fact, Westfield's recent 'How We Shop – Beauty' study reveals that people were going make-up free for 3-4 days a week and spending more money on skincare than hair and make-up products, mirroring these trends.
What are your top tips for glowing skin?
I believe that if you feel good, you look good so it's important to focus on your wellness and treating the inside as opposed to just treating the outside. Research carried out by Westfield shows that people are putting more importance on choosing products for well-being as opposed to external aesthetics.
My main tips are to have a balanced lifestyle, sleep, hydrate and incorporate vitamin C into your skincare routine. Stress is a major cause of inflammation, and it is this inflammation that causes an array of skin issues. Reducing stress and taking supplements is a really great way of making sure your body maintains the right levels of vitamins to function effectively. So many brands are introducing wellness products to support their beauty ranges.
What are the biggest skincare mistakes you're seeing at the moment?
Incorrect and overuse of products, for example, retinol.

Treating dehydrated skin as dry skin. Dry skin needs moisture i.e. creams and oils, and dehydrated skin needs water i.e. hyaluronic acid and water-based serums.

Not exfoliating, leading to reduced efficacy of products applied.

Relying on topical products and treatments without addressing the root cause of skin issues.

Not using SPF, as UV rays are the number one cause of skin damage and ageing."
What's your own current skincare routine?
I always stick to the following steps in my skincare routine. I'm short on time, so I like to use products and ingredients that multitask.
1.       Cleanse with an exfoliating face wash
2.       Hydrate with a hyaluronic acid
3.       Treat with a serum
4.       Condition my skin with a moisturiser
5.       Protect with an SPF
I also like to skincycle products such as retinol and pigment-reducing ingredients.
The home tool I can't do without is the Luna 3 cleansing brush (£209).
Skincare routines need to be bespoke and specific to you. I recommend seeing an expert for advice and heading into store – you can get this free at Westfield, which is why I'm working with them on The Beauty Edit Pop-Up. They can recommend the best products for you and more importantly how to use them."
Which celebs do you work with and what are their favourite products/treatments to use?
I work with so many celebrities like Victoria and David Beckham, Rosie Huntington-Whitely and Eva Mendes, to name a few. It's so hard to choose favourite products but I know Rochelle Humes and Eva Longoria love L'Oreal products and Amanda Holden swears by Revive Collagen (£39.99) which she's just got me onto.
What's a drugstore skincare product celebrities love?
Cerave, Cetaphil, The Ordinary and L'Oreal are great drugstore offerings, I actually recommend some of these to my clients alongside many of my physician-led products.
What's your desert island skincare item?
link