Nicole Stevens doesn't know how much further she can stretch her grocery budget.
Stevens, 40, based in Battle Creek, Michigan, is a single mother raising two teenage boys. She relies heavily on the Supplemental Nutrition Assistance Program (Snap), more commonly known as food stamps, to feed her family. Before the pandemic, Stevens recalls being able to spend just $300 on her family's big monthly supermarket haul. This always meant that she had a little bit of money left over to make additional trips to the store whenever staples like milk and bread inevitably ran out. Today, the same monthly shopping trip costs her $500.
Stevens often racks her brain trying to understand what is driving the increase. The frozen dinners her kids love now cost $12 a pack, which she considers expensive for a single meal. A box of cereal goes for $6 these days, more costly than she has ever seen. And eggs are so pricey at the moment that Stevens half-joked about investing in a backyard hen.
But food prices aren't her only concern. In March, Snap benefits are going to fall significantly, forcing Stevens and millions of other poor families across the country into potentially dire situations, including buying less food and skipping meals.
Late last year, Congress voted to end a pandemic-era boost to food stamps, which had been giving families extra money every month to help them weather financial uncertainties. Before the public health crisis, Snap benefits were calculated based on income, so those earning more got less in food stamps. However, thanks to the boost – officially known as emergency allotments – all families automatically received the highest level of Snap benefits available for their household size. Those already receiving the maximum saw a bump of $95.
For example, a family of three with a net monthly income of $1,000 would have received approximately $440 in Snap benefits each month before the pandemic. With the help of emergency allotments, that same family could instead get $740 in Snap each month, the maximum benefit available for the household size. Meanwhile, a family of three with no income would have received $740 a month before the pandemic. With emergency allotments, that benefit rose to $835 monthly.
For Stevens, this policy translated to an additional $121 in food stamps each month. That money is now going away at the end of February.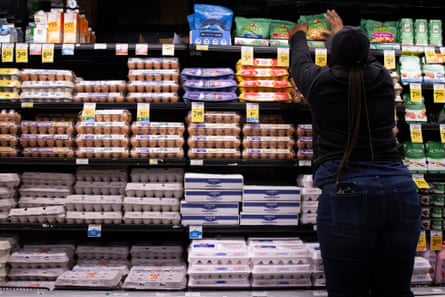 "This is horrible timing," she said. "Things at the grocery store are so much more expensive than I remember them being, and they're gonna cut back our food stamps again? Well, we're going to have to start eating a little less." She sighed, and mulled over how to tell her youngest that he wouldn't be able to eat two bowls of cereal every morning any more.
On an individual basis, the end of emergency allotments will mean an average loss of $82 in food stamps per person every month, according to US Department of Agriculture (USDA) estimates. Nationwide, the move will pull billions of dollars out of the economy. In February, the last month that emergency allotments will be issued, states are currently projecting that they will distribute at least $2.7bn in these benefits.
Anti-hunger advocates warn that the ramifications will affect not only poor people, but also the communities they live in.
"That is money that generates economic activity in our local food systems," said Christina Wong, public policy and advocacy director for Northwest Harvest, a network of food banks and meal programs in Washington state. "It's helping to keep your local grocery store in business. It's helping to support the farmers who are growing the food that's being sold at farmer's markets … The loss of Snap benefits hurts all of us because it contributes to economic slowdown."
Across the country, food pantries and community groups are urgently spreading word about the impending cuts. The omnibus spending bill that terminated emergency allotments only took effect in late December, giving Snap users little time to learn of the changes and prepare for them.
Tianna Gaines-Turner, 43, a mother of four living in Philadelphia, was disappointed to learn about the slashing of emergency allotments – but hardly surprised.
"Everything that helps people in need is on the chopping block," she said. But it would have been helpful for Snap users to have a longer transition period before the change took effect, so that they could gradually adjust their spending habits and prepare for a benefits cut.
Emergency food providers are also bracing for a surge in need in the coming months, one that could further strain their already meager resources.
Rising costs mean more people need food assistance, while simultaneously making food assistance more expensive for food pantries to provide, says Jenna Umbriac, director of programs at Manna Food, which distributes grocery packages in Montgomery county, Maryland. The organization gave out 40% more food this January compared with the same month last year, Umbriac estimates. Eggs were once an affordable protein to hand out to families, but the pantry can't make them available on a regular basis any more.
A preview of the financial hardship to come can be seen in over a dozen states, including Florida, Arizona and Tennessee, that have already ended emergency allotments for their residents. (While Snap is a federal program, individual states have wide latitude in how they administer the benefits.) In these states, people face increased levels of food insecurity, according to surveys conducted through Providers, a popular app used by Snap recipients to track their food stamps. Indicators of food insecurity included skipping meals, relying on others for food and visiting food pantries.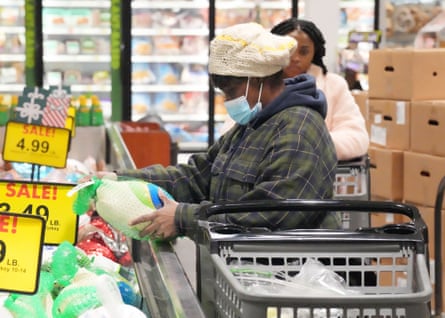 The end of emergency allotments is expected to hit poor seniors particularly hard. That's because income from social security payments lowers the amount of food stamps recipients can get. In Kentucky, one retiree saw her Snap benefits fall from $240 a month to just $20 a month when the state ended emergency allotments in May 2022, the Guardian previously reported.
"The ending of Snap emergency allotments will impact millions of people, and USDA is working closely with states and partners to prepare them for this change," said an agency spokesperson. "It is important to note that emergency allotments were designed to be temporary."
The end of emergency allotments came as part of a compromise, in which Congress agreed to cut the pandemic-era benefit in order to pay for a separate child nutrition program known as Summer EBT. The new program will provide families with extra grocery money to help cover children's meals during summer months. Families with children eligible for free or reduced-price school lunches would receive $40 per child each month beginning in 2024.
Anti-hunger advocates worried that the promised benefits of Summer EBT would be far outweighed by the immediate harm of the imminent Snap cuts.
"This has a lot of ramifications," said Ellen Vollinger, Snap director at the Food Research and Action Center, which advocates against poverty and hunger. "When Snap benefits are cut, it's not as if the problem of hunger goes away. People don't go anywhere. They still exist. But they now have to bear the brunt of figuring out what's their next so-called coping strategy."
The end of emergency allotments is just the beginning of what will probably be a fraught year for food policy. In Washington DC, Congress is set to take on the renewal of the farm bill, a massive package of legislation with wide-ranging ramifications for both agriculture and nutrition programs, the latter which accounts for a large majority of its outlays.
Back in Battle Creek, Michigan, Nicole Stevens isn't thinking about any of that. She's just worried about how much harder it's going to be to support her family when her Snap benefits decrease.
"Feeding the poor people in this country should be one of the number one things that [the government] try and do," said Stevens. "I'm not ashamed or embarrassed to admit that I am one of the poor people. I just am."
link