Kellogg suggests what she calls "The 5-Minute Meal Plan." "Look at what you have in your fridge and write down what you need to eat first. Then go to the store and base your meals on what must be eaten first." Plan your ingredient list into a shopping list. That could help avoiding tossing "extra" food in the cart. Online shopping and grocery delivery is great for that, too. 
Another easy planning tip is to keep a list of favourite meals that rely on similar flavours and pantry staples (think Italian, so oregano, Parmesan, tomato sauce and noodles). This way, you can turn ingredients into everything from casseroles, pasta, pizza, calzones and chicken parm.
Another tactic Kellogg employs is to plan her weekly meals but always remove one before heading to the store. It works for her. "Something always comes up—whether you get invited out, or you're just not hungry. And you can always go back to the store. Making two trips to the store is better than throwing food away."
Invest in good food storage containers
Knowing the best storage containers for different foods is crucial in extending their shelf life—and the tricks may surprise you. Tomatoes, for example, should be stored on the counter, not in the fridge. Lemons will last a month or longer when stored in a water bowl in your fridge. Carrots and celery in a container of water in the refrigerator will last up to three weeks, and fresh herbs placed one-third in water, like a bouquet, and stored in the fridge will last weeks instead of days. 
For more shelf-life-extending storage tips, like freezing coffee for up to two years or stretching opened salad dressing in the fridge for up to three months, check out this guide from Purdue University. Also, the freezer is your food-waste friend and shouldn't be what Kellogg calls "the stopover spot before composting, where food goes to die." Plan a freezer dinner night, maybe once every two weeks, to intentionally eat the food in the freezer. 
Remember to organize your fridge and pantry so you can access the oldest food immediately (the food service industry calls this FIFO—first in, first out). Place newly purchased items underneath older ones or near the back of the shelf, so the first things you see—and reach for—are the first in.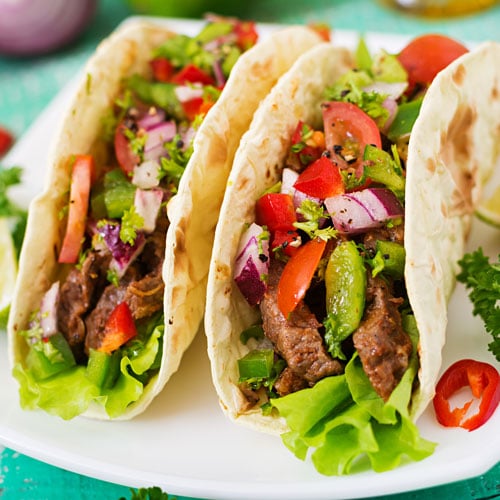 What to do with leftovers?
As Weird Al sang, "Just eat it." Leftovers that land in the green bin contribute to household food waste in a big way. Still, with some creativity, there are ways to repurpose leftovers to make them exciting again. Here are some delicious ways to eat your leftover protein: 
Use last night's protein and veggies to make a big protein bowl. 
Give it new life with fresh herbs and a sauce. 
Those leftover veggies and protein are also the perfect filling for tacos or quesadillas.
And once again, if you have leftover protein (animal or plant-based), grains and some veg on hand, whip up some mashed potatoes and put it all together for a new twist on Shepherd's pie. 
The internet is awash with ways to use leftovers—and now you can even ask AI apps, like ChatGPT and Perplexity AI, what to make with the five ingredients you have on hand (seriously, try it—ask for five different recipe suggestions). But if you find yourself with a surplus of food one step away from the bin, consider offering it to a neighbour or friend or take it to work and share it with your colleagues.
link