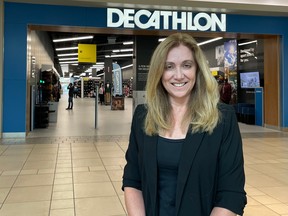 Article content
Paige O'Neill has spent almost 30 years working for shopping centres, the majority of that time as a marketing co-ordinator at Chinook Centre starting in 1994, when it was a Cambridge property.
She earned valuable experience through transfers to centres in Lethbridge, Edmonton and Richmond, B.C., before returning to to Chinook — then under ownership of Cadillac Fairview (CF), one of the largest owners, operators and developers of quality office, retail and mixed-use properties.
Article content
In 2010 she relocated to CF's Market Mall as general manager to oversee its expansion plans, but two and a half years later returned to Chinook.
At Chinook, she had benefited greatly under the mentorship of general manager Terry Napper. When he left the company in 2013, O'Neill was appointed to that position to lead Calgary's largest indoor shopping mall that boasts 1.38 million square feet of retail floor space and 5,500 free parking stalls.
A proud achievement of the woman who grew up in Moose Jaw, Sask., and attended the University of Saskatchewan, earning degrees in arts with an English major and a second BA in education, and Grant MacEwan College in Edmonton, where she earned a diploma in advertising and public relations. She also obtained a real estate licence with the Calgary Real Estate Board, which she still holds.
O'Neill says her leadership role at Chinook Centre was exciting and challenging, with the major expansion of 180,000 square feet in 2014, a totally revamped food court into a more modern dining hall in 2018 and, of course, during the big hit that all retailers took during the pandemic.
Article content
While she was at Market Mall, CF hired Darren Milne, who became its general manager when she returned to Chinook Centre. CF exchanged their roles almost a year ago, so O'Neill is back in the northwest managing the 400,000 square feet of retail in the 900,000-square-foot Market Mall, which is enjoying a huge resurgence in leasing activity, serving an area that continues to grow.
O'Neill says Market Mall has become a great destination for people involved in and supporting all things sports.
Its newest retailer is Decathlon, which opened last weekend in the former Toys 'R Us location beside the Hudson's Bay store. The family-run operation that was founded in France in 1976 designs, manufactures and distributes a wide range of sporting equipment.
At 30,000 square feet, it is much more than a retail store and showrooms; it offers ski and bike maintenance, racket stringing, skate sharpening, and kayak and paddleboard repairs.
The mall also offers Sportcheck, Canada's biggest retailer of sporting apparel and equipment; Sporting Life, a leader in lifestyle brands; Mountain Warehouse; Jersey City; Athleta; Atmosphere, and alongside Landmark Cinemas is the recently opened Team Town Sports. Canada's premier store for team sports with an emphasis on catering to community sports, it has a special area called Kids' Kingdom dedicated to youth sports.
Article content
Other sports-related newer shops include Nike and JD Sports, and O'Neill says Los Angeles-based Alo Yoga, which is planning several stores in Canada, will open in the mall in the New Year.
Its food court has also welcomed newcomers KOR Street Food, Don't Yell At Me, Stuffies Pastry and Hurry Curry.
Mall leasing activity is strong and although traffic is not quite back to pre-COVID levels, sales are higher. O'Neill notes with interest that a number of online operations are taking another look at bricks and mortar, with pop-up tests in enclosed malls.
Market Mall is also benefiting from the strong area residential growth, notably in University District, which has a strong retail component but cannot serve all of its residents' needs, so the mall across the street is most convenient.
O'Neill is happy to be back at Market Mall managing the city's second-largest indoor shopping experience, with the help of a staff of 40 who serve more than 200 stores and services who believe in the property and are keen to welcome more fine retailers.
---
Notes: Cal Cavendish, the "Mad Manure Bomber" who flew his plane low to spread his anger over downtown in the 1970s, died last week. A wonderful storyteller, Cal was a passionate and talented musician who played from the Deep South to the N.W.T. — a funny and kind character.
David Parker appears regularly in the Herald. Read his columns online at calgaryherald.com/business. He can be reached at 403-830-4622 or by email at [email protected]
link